Testing (and starting to use) Plausible
I hate Google Analytics and it is a mess to use for a simple website. UI is annoying and I need ton of clicks to found what I want to see.
So I started searching alternative for my blogs/projects and even for my clients. Then I found Plausible.
Plausible is intuitive, lightweight and open source web analytics. No cookies and fully compliant with GDPR, CCPA and PECR. Made and hosted in the EU, powered by European-owned cloud infrastructure 🇪🇺
As I live in Finland (EU) that sounds pretty good. So lets try the free trial!
First I placed couple of my sites to Plausible. Removed Google Analytics from couple of them. Adding Plausible to sites was easy and everything was working quite quickly.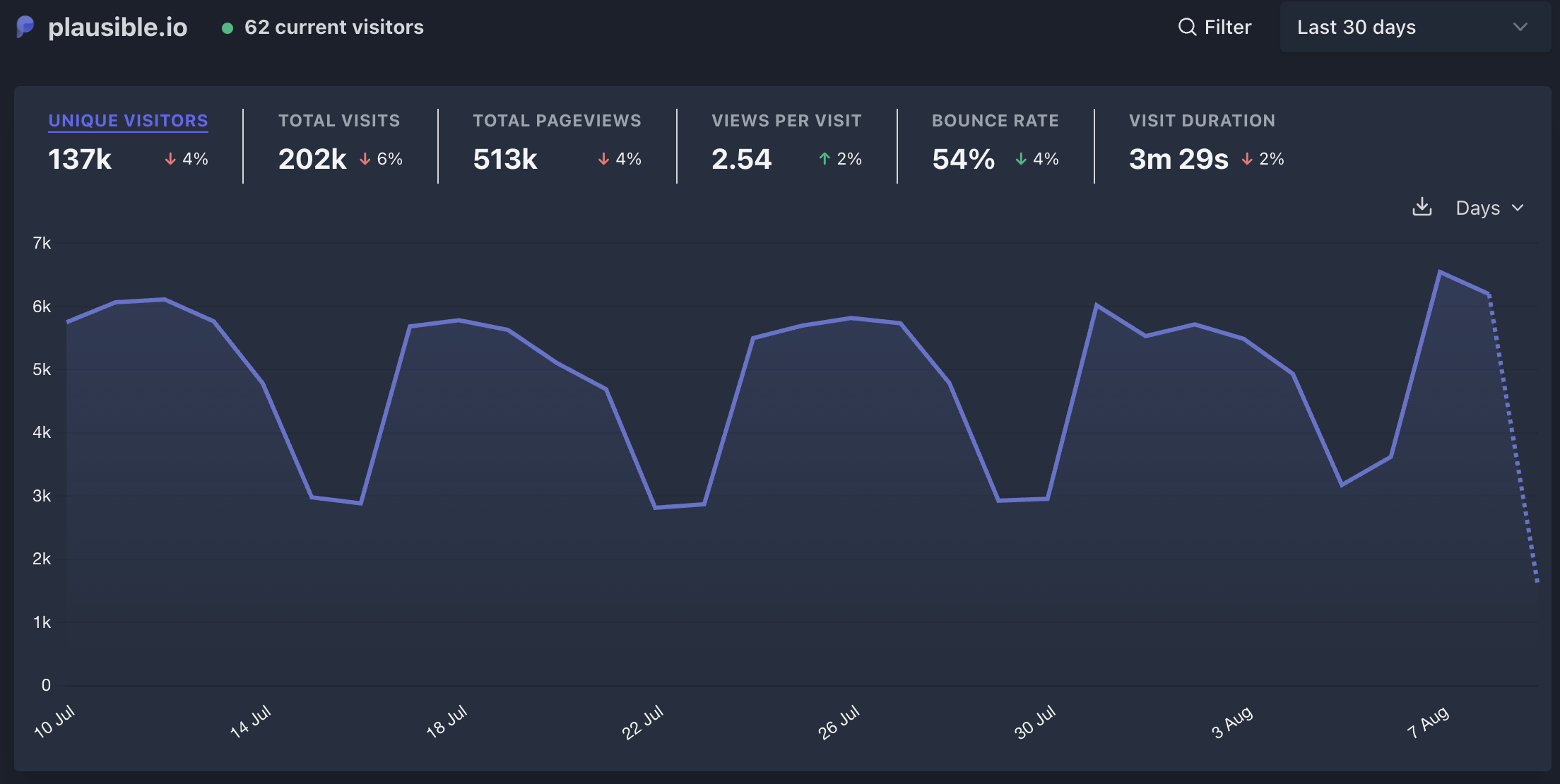 Dashboard is fantastic! You can see live demo here: https://plausible.io/plausible.io You can see everything at glance and no need for extra clicks. Simple and easy.
There are lots of features but you can get started by including the script. Documentation is good and there are some nice additions like Adblockers section. Basically for example I configured Nginx to route /js/script.js request to Plausible. Now even my Brave Browser usage gets tracked. Pretty cool.
Hosting Plausible myself
It became quickly clear that Plausible is great. Much better for my usage than Google Analytics. Nowadays you can get quite cheap VPS and since it is possible to host Plausible myself why not? I can use Docker and Docker compose so no problems there.
Hosting Plausible is basically free since Plausible is Open Source and they have documentation for it. It will be cheaper for me to use VPS than to pay Plausible for using their cloud.
I've been hosting Plausible for a week now. And I use Hetzner for my vps provider since it has vps available from Finland, so my analytics is in Finland. No problems yet and at the moment there are more than enough resources for Plausible.
I am planning to start offering Plausible for my clients also so they can see simple analytics from their site at ease. Plausible also has weekly emails and whole lot more features that I have yet used.
Are you using Plausible or something else?